Almost-authentic Thom Kah Soup, with lots of mushrooms.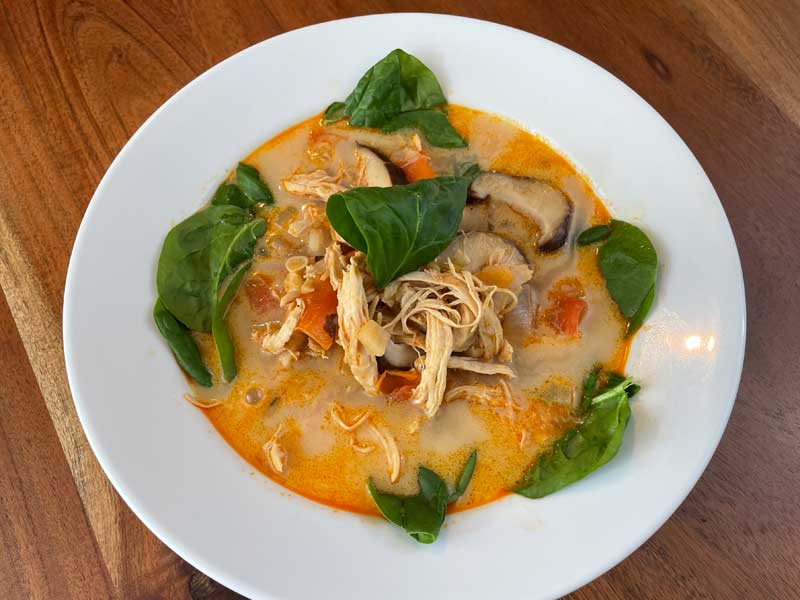 Thom Kah is a spicy, red curry based soup that is loaded with mushrooms among other good things. Traditional Thom Kah also uses lemongrass and kaffir lime leaves.
But in this recipe — which came about through attempts to recreate a version of Thom Kah served at a favorite fusion restaurant — we rely on simpler ingredients that are easier to find in a typical grocery store.
You can serve Thom Kah alongside rice and a salad for a complete meal. If you want a special treat, pour the last of your broth over your rice. Yum! 
You can step up the spice-level of this soup by using more red curry paste. You can also add jalapenos or Thai chilis to the ginger and onion. (A spicy version is especially nice when you're dealing with a head cold!)
If you'd prefer a vegetarian or vegan version of this soup, just leave out the chicken and add in chunks of firm tofu and swap vegetable broth in for the chicken broth.
Here are the ingredients you'll need:

2 Chicken Breasts
3 Tablespoons red curry paste
1 pound mushrooms cleaned and quartered or sliced thick (shiitakes, creminis, buttons, oysters… whatever you like, but we're using shiitakes here)
2 tomatoes – seeded and chopped
1 inch fresh ginger, peeled and sliced thin (For a more authentic soup, use galangal, which has an earthier, more citrusy flavor)
1 medium onion, peeled, cut into quarters, and then sliced
2 cloves of garlic, minced
3 cups fresh spinach, stemmed (Spinach is not an authentic ingredient for this soup, but it makes it pretty, adds vitamins, and it fits right in with the flavors)
2 teaspoons fish oil
1 can coconut milk (in the 15-ounce neighborhood)
1 quart chicken broth
Salt
Pepper
Peanut oil
1 bunch of cilantro 
1 lime sliced into wedge
How to prepare your Thom Kah soup.

Step 1: Add 1 tablespoon oil to a frying pan. Heat it over medium heat. Add the chicken breasts. Top each of the chicken breasts with a tablespoon of red curry paste. Add ½ inch water to the pan and bring it to a boil. Cover. Reduce the heat to low, and simmer for 20 minutes until the chicken is cooked through. Remove from the heat allow it to cool.
Step 2: While the chicken is cooking, clean and slice your mushrooms, slice your onion, chop your tomatoes, mince your garlic, and slice your ginger. 
Step 3: In a soup pot, add 2 tablespoons of oil. Heat over medium for about a minute. Add the onions and cook until just translucent. Add the ginger, garlic, chiles if you're using them, and mushrooms. Cook until the mushrooms begin to soften and release their moisture. Stir the ingredients regularly so they don't stick to the bottom of the pan. Add more oil as needed. And reduce the heat if needed. 
Step 4: Add the quart of chicken broth to the mushroom and onion mixture along with a pinch of salt, a sprinkle of pepper, and the fish oil. Add the tomatoes, too. Allow the broth to come to a boil and then lower the heat to simmer. 
Step 5: While the soup simmers, shred the chicken. Don't discard any of the liquid! Add the chicken, the liquid from the pan, and one more tablespoon of red curry paste to the soup. Continue to simmer for another five minutes.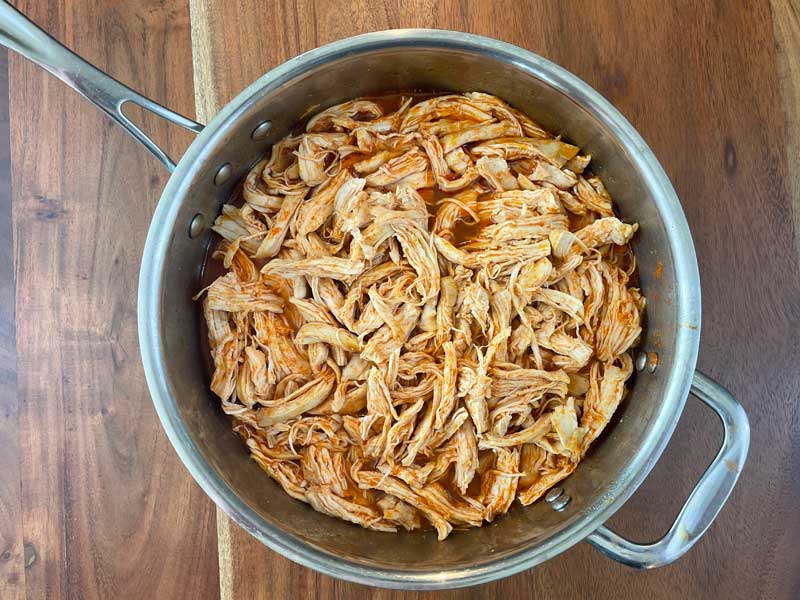 Cooked and shredded chicken for your Thom Kah recipe.
Step 6: Shake the coconut milk well before opening the can. Add it to the broth and allow it to heat through. 
Step 7: Take a handful of spinach leaves and place them in the bottom of a bowl. Ladle the Thom Kah over the top. Garnish with chopped cilantro and a lime wedge.
Enjoy!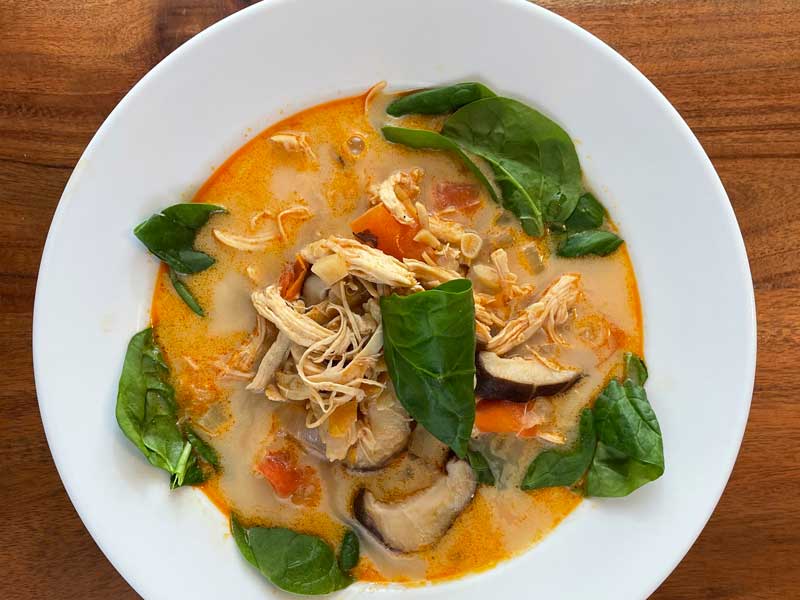 Makes 6 to 8 servings

Nutritional Information per 1 cup serving.

Calories: 270
Fat: 17g
Cholesterol: 20mg
Sodium: 196mg
Carbohydrates (Total): 16g
Dietary Fiber: 8g
Sugar: 6.4g
Protein: 16g
Related Topics: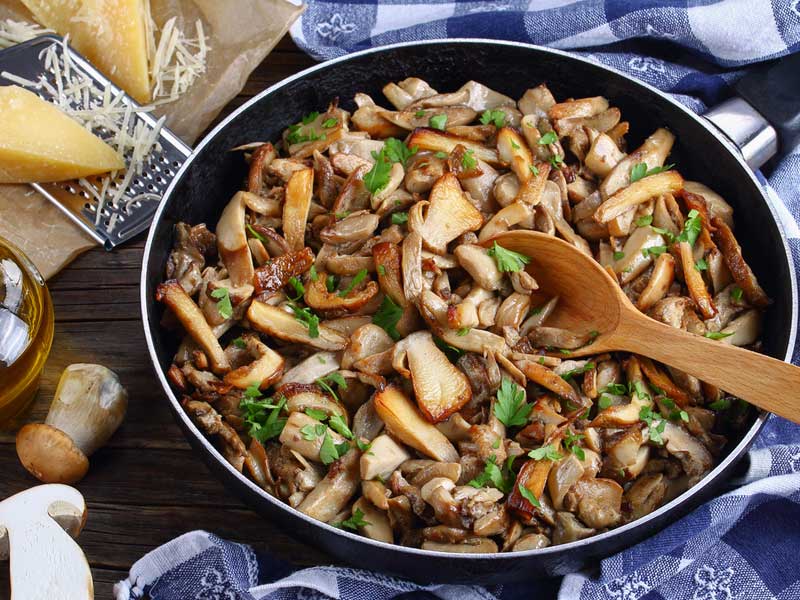 Original mushroom recipes shared by mushroom lovers from around the world

These mushroom recipes include home-cooked favorites, plus exotic dishes from famous chefs who love to cook with mushrooms. The recipes...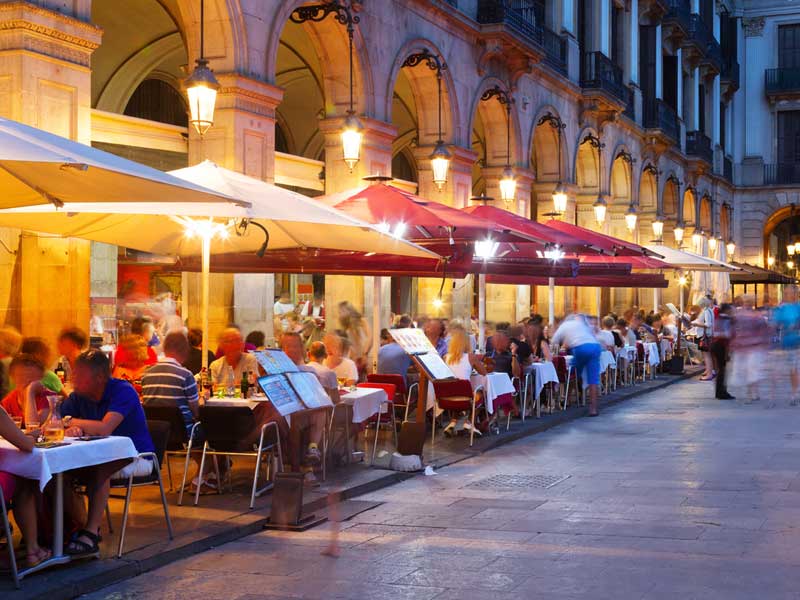 Interviews with international chefs who love to cook with mushrooms.

A series of interviews with chefs from around the world, all of whom love to create amazing dishes with mushrooms. The interviews...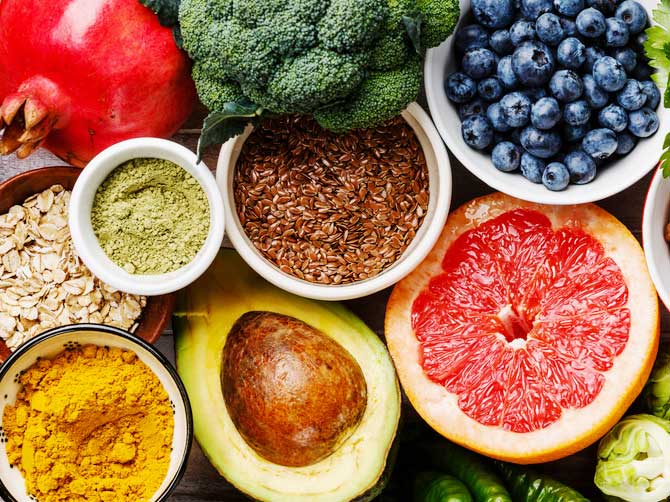 Are mushrooms a superfood? Yes! Even if most people don't know it.

Superfood lists overlook mushrooms, despite their health benefits. Find out why mushrooms should be on the superfood list. Read the full article...

Before you go, please tell us what you want to know more about... 
Create your own user feedback survey