Welcome to the Fascinating World of Mushroom Festivals.
Whether you are an experienced mycologist, an amateur forager, a culinary aficionado, or simply a curious adventurer, mushroom festivals offer a unique way to delve into the mysterious world of fungi.
At these festivals, you can enjoy a variety of activities such as mushroom foraging trips, culinary demonstrations, scientific lectures, art installations, and even mushroom-themed parades.
They offer an opportunity not just to learn about mushrooms' culinary uses, but also their critical ecological role and potential medicinal benefits.
Ready to explore? Let's take a look at some of the most famous festivals around the world, with some more details on the 2 of the most famous ones.

Some of The World's Most Famous Mushroom Festivals.
Mushroom Festival of Kennett Square (United States)
Kennett Square in Pennsylvania is known as the "Mushroom Capital of the World". Every September, they celebrate their local industry with a large festival featuring mushroom cooking demonstrations, a mushroom soup sale, and a parade.
Telluride Mushroom Festival (United States)
Held annually in Telluride, Colorado, this festival is one of the most prominent in North America. It features lectures, foraging expeditions, cooking demonstrations, and various workshops related to mushrooms.
UK Fungus Day (United Kingdom)
This annual event organized by the British Mycological Society aims to educate the public about the importance of fungi in the environment, medicine, and everyday life. It features mushroom forays, identification workshops, talks, and cooking demonstrations.
Fungus Fair: Santa Cruz (United States)
Organized by the Fungus Federation of Santa Cruz, this event showcases hundreds of species of local fungi, presented in detailed displays and exhibits.
Borgotaro Mushroom Festival (Italy)
Held in the town of Borgo Val di Taro, this festival celebrates the renowned Porcino di Borgotaro mushroom, which has a Protected Geographical Indication status in the European Union.
Matsutake Mushroom Festival (Japan)
Matsutake, a highly prized and rare mushroom, is celebrated in Japan during this festival. The exact location and date vary each year due to the wild and unpredictable nature of the Matsutake harvest.
Mushroom and Wine Fair (Spain)
This event in La Rioja, Spain, combines the region's famous wines with a variety of local mushrooms, including cooking demonstrations, tastings, and guided tours for mushroom foraging.
Oregon Truffle Festival (United States)
Held in Eugene, Oregon, this festival is dedicated to the native truffles of the region. Events include truffle hunting, gourmet truffle meals, and seminars on cultivation and cooking.
Morel Mushroom Festival (United States)
Taking place annually in Boyne City, Michigan, this festival is dedicated to the morel mushroom, with events including mushroom hunts, a morel breakfast, and even a morel championship.
Please note that event details, including dates and activities, can change from year to year, so it's always a good idea to check the event's official website or contact organizers for the most current information.
Two of the Most Famous Mushroom Festivals in the USA.
The Mushroom Festival of Kennett Square

Held in Kennett Square, Pennsylvania, this festival is a longstanding tradition, celebrating the town's unique claim as the "Mushroom Capital of the World." The festival usually takes place annually in September, during the weekend after Labor Day.
Here's a deeper look into some of the key features and activities that typically make up the festival:
Mushroom Exhibits: Given Kennett Square's reputation, a variety of mushroom exhibits showcase different types of fungi and the mushroom-growing process.
Culinary Events: Since mushrooms are a major part of the local economy and culinary scene, the festival typically includes a number of food-related events. These often include cooking demonstrations and a mushroom cook-off, where local chefs and home cooks compete to create the best mushroom dishes.
Parade: The festival traditionally begins with a parade on Friday evening. The parade features local marching bands, floats, antique cars, and often, unique mushroom-themed entries.
Street Fair: Over the weekend, the streets of Kennett Square are lined with booths selling a wide range of items, from food and drink to arts and crafts. Of course, many of the offerings are mushroom-themed or mushroom-infused.
Children's Activities: The festival is family-friendly, with plenty of activities aimed at children. This may include games, rides, and educational activities about mushrooms and the environment.
Live Entertainment: Music and live performances are a staple of the festival, with local and regional bands often providing the soundtrack for the festivities.
Mushroom Run/Walk: One of the highlights of the festival is a Mushroom Run/Walk, a race event that usually takes place on the Saturday morning of the festival.
Mushroom Sales: Given the local industry, there are often opportunities to buy a wide range of mushroom types directly from local growers.
It's important to note that the exact events and activities can vary from year to year, so it's a good idea to check the festival's official website or contact the organizers for the most up-to-date information.
Whether you're a mushroom aficionado or just curious about this unique local industry, the Mushroom Festival of Kennett Square offers a blend of education, entertainment, and of course, plenty of culinary delights.
Get more information at their website.

The Telluride Mushroom Festival.
Also known as the "Shroomfest," this is an annual event that takes place in Telluride, Colorado, USA. It has been a key feature of the town's event calendar since 1981 and is dedicated to all things related to mushrooms, with a focus on their use in food, medicine, and ecological sustainability.
While the exact programming varies from year to year, typical events at the festival may include:
Forays: These are guided trips into the local area for hands-on mushroom foraging. Participants get a chance to find and identify a variety of mushroom species under the guidance of experienced mycologists.
Cooking Demonstrations: Chefs give live cooking demonstrations featuring mushrooms, highlighting different ways to prepare and enjoy these versatile ingredients.
Lectures and Workshops: These may cover a wide range of mushroom-related topics, from the role of fungi in the ecosystem, to medicinal uses, to the latest scientific research. Participants often have the chance to engage with leading experts in the field.
Parade: One of the most unique and celebrated events at the Telluride Mushroom Festival is the parade, where festival-goers dress up in mushroom-themed costumes and take to the streets.
Mushroom Identification Sessions: These sessions allow attendees to bring in mushrooms they've found for identification by experts. It's a great opportunity to learn more about local mushroom species and safe foraging practices.
Culinary Events: These can range from multi-course dinners featuring locally foraged mushrooms, to tastings, to mushroom and wine pairing events.
Art Installations and Exhibits: These often feature mushroom-inspired artwork and educational displays about various types of fungi.
The festival generally takes place over several days in late summer, typically in August. However, the exact dates can vary from year to year, so it's always a good idea to check the festival's official website or contact the organizers for the most current information.
Get more information at their website.

Related Topics: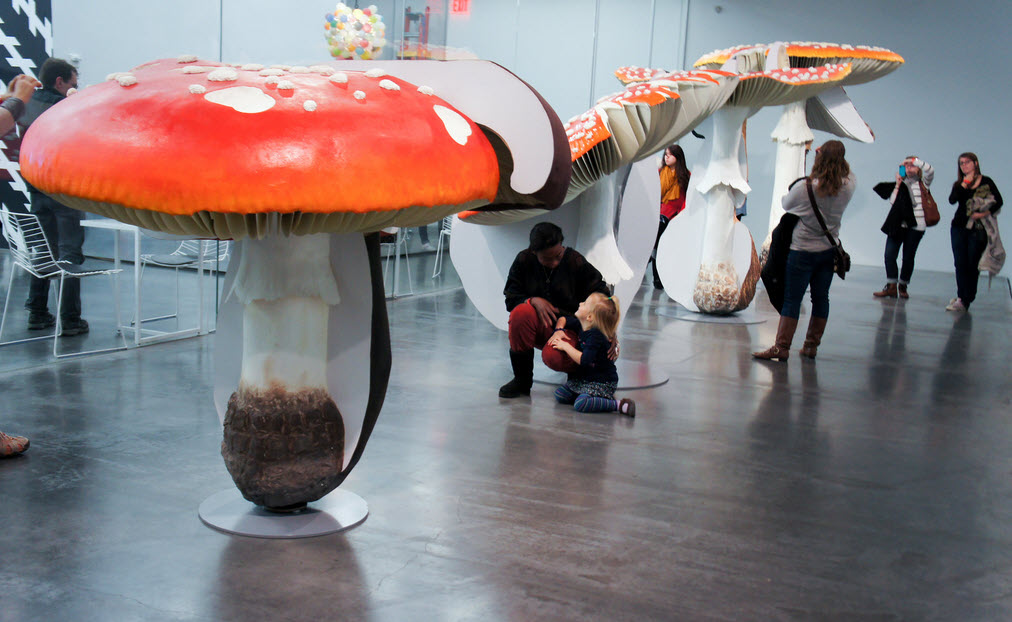 Mushrooms in Contemporary Art and Culture.
Mushrooms have been a constant theme across multiple art media, in many cultures. The full article...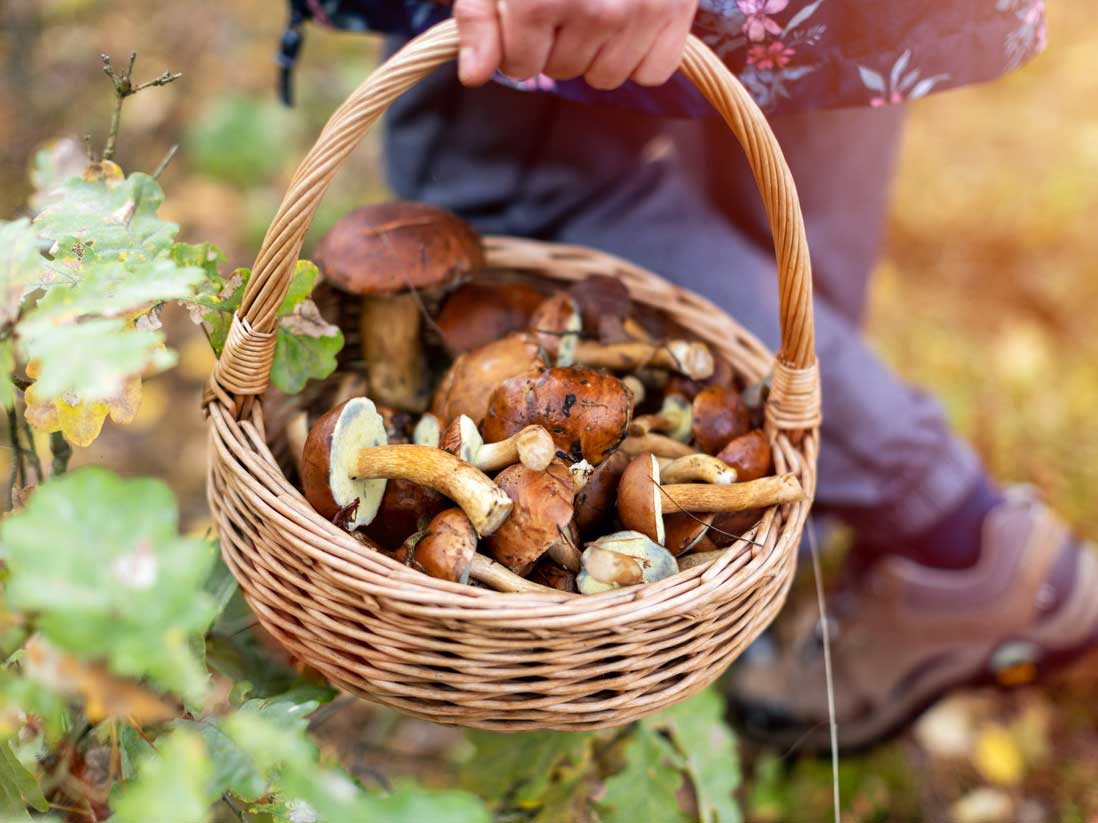 A beginner's guide to wild mushroom foraging in the woods.

With patience and commonsense, you can learn to safely forage for wild mushrooms. Careful, though. You might get hooked! The full article...

Before you go, please tell us what you want to know more about... 
Create your own user feedback survey