Our interview with Najat Kaanache… famous Moroccan chef, passionate mushroom lover, and "she who stops planes".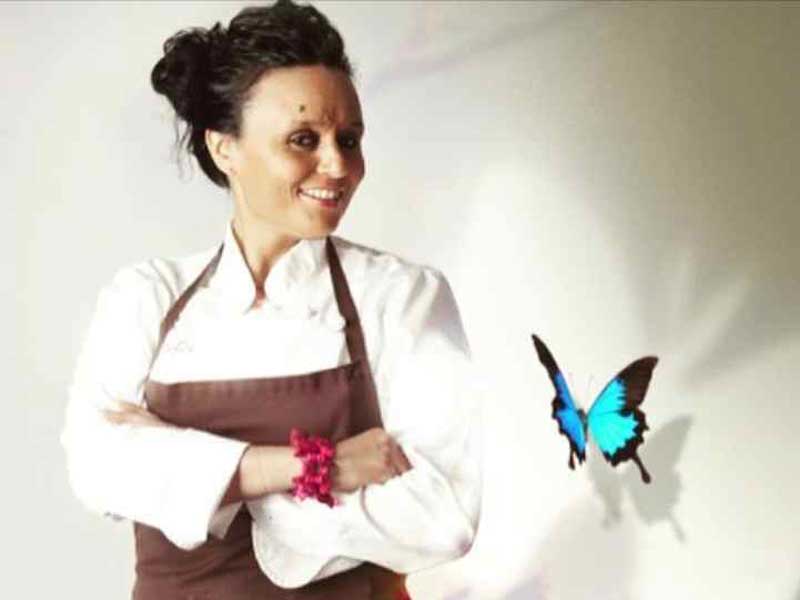 At Incredible Mushrooms, we're really excited to talk with Najat Kaanache about cooking with mushrooms in Morocco.
Chef Najat, whose parents are Moroccan, was born in Guipúzcoa, a Spanish province with a mushroom tradition. During her time at Noma, elBulli, and other famous haute cuisine restaurants, she worked with the best techniques for cooking mushrooms. 
At Nur, she makes incredible dishes with mushrooms. Her restaurant has received awards as the best Moroccan restaurant in the world and Africa. 
Also, we talked about Chef Najat's meeting with Chef Gordon Ramsay, who visited Morocco for his "Gordon Ramsay: Uncharted" program on National Geography.
"I have stopped planes for mushrooms," Najat tells me before starting the interview.
Intriguing, right?
Anyway, let's dive in. And to keep things simple... we'll abbreviate with IM for Incredible Mushrooms and NK Najat Kaanache.
IM: Najat, what do you mean when you say you've stopped planes?

NK: Morocco has many mushrooms that are exported to different countries of the world where these mushrooms are expensive. Mushrooms like morels, black trumpet, and shiitake. 
Morocco is about more than just white mushroom...we are talking about morels the size of my hand or matsutakes that are not easy to find. 
What happens is that in Morocco, we don't traditionally eat mushrooms. You only eat them in pasta with crème fraiche. And white mushrooms because they're fashionable. 
But the value we have here with our other mushrooms is like a hidden black diamond.
Anyway, there was a shipment going abroad. So, I stopped the plane before takeoff and said to the manager:
"I won't move until you sell me the mushrooms I need. You can take the rest abroad."  
We should be the first ones to have access to our own mushrooms - before they're flown to other countries!
IM: Does that mean Morocco doesn't have much of a mushroom culinary tradition?

NK: It wasn't like that in the noble times of Andalusia. What the story says is that French nobility had their delicacies (including mushrooms), and they brought them.
My aunt used to tell me that white truffles were given to donkeys. I mean, excuse me, you guys are crazy! That's not for donkeys and horses!
I used to come on vacation to Morocco, and when I saw the mushrooms that I've worked with in those great restaurants - where they were given value and care - I would say, "Wow, we also have them, right here in Morocco."
IM: Gordon Ramsay was amazed by the wealth of mushrooms you have in Morocco. How was that visit?

NK: When Gordon Ramsay visited us, I had about 100 kilos of mushrooms, I picked up a basket and threw it on the floor and he said, "You had to be fucking rich." 
He says that because there's a French guy who lives here and has a mushroom plantation, he sells them for 2000 dirhams per kilo or 244 dollars per kilo. And the black truffle is sold for 15,000 dirhams per gram.
IM: If almost everything is exported, and I am local and want to buy. Where do I go?

NK: What happens is that there is no market culture. But there are some small markets where you can usually find mushrooms that are collected in the wild, usually by women.

IM: Why are women the ones who collect mushrooms?

NK: Their hands are smaller and softer. The same as in pastry making.
Morocco has some of the best mushrooms I've ever seen in my life! And consider how much I've traveled. I've never seen this quality of mushrooms anywhere else in the world. 
Good quality mushrooms exported, but local people rarely eat them. Unless they are Moroccans who have left the country and got used to cooking with mushrooms, as in Europe.
IM: How many varieties do you have in Morocco?

NK: Shiitake, Black Trumpet, Morel, and Porcini.
These are grown in the Atlas Mountains, and you have to go to the forest to find them, where the rain and humidity provide perfect growing conditions. 
On the other hand, you have French people here who grow them in greenhouses, using plastic in areas of flat land.
IM: Is there a particular way you like to prepare mushrooms?  

NK: In the restaurant, right now I have about 100 kilos of mushrooms in 20 pots of express cookers. 
I cover them with hot water for about 5 days and then, I'll put them in a jar, and they will become transparent. 
I fill it to the top with oil so that it does not allow oxygen to enter, and inside I will put some garlic, a lemon, or something that makes it acidic without having to be pickled, and I leave it in that jar for 6 months. 
When I take out that shiitake or cep, it comes out whole, magical, shiny like a diamond, and it is also cooked.
IM: What is this technique called?

NK: It's a variation on pickling. But not quite the same.
There is another technique. We make the mushroom as if it were meat, but it is not meat. We work it as if it were a ham. 
What we do is to cure it with spices and dry it in the sun to give it a texture that is familiar to us - it is like deceiving the palate with the sun and the spices. If you do it well, it has interesting umami. It is used in broths, purees, soups, and pasta. 
I can dry the mushroom in spices, and then combine it with chickpea flour and make a paste… and with that, I can create a good broth. 
IM: What kind of mushrooms can be used to make these pickles?

NK: Black trumpet and Porcini are amazing. Also, Matsutake. I have about 900 kilos of cured and dried Matsutake in the freezer. We have that much because we are closed now because of the pandemic.

IM: How do you dry mushrooms in the sun?

NK: We put them to dry on the restaurant's roof and we sew them with thread and needle from the stem, one by one. 
Then, we put them from wall to wall in the kitchen, so they take the aroma of the kitchen. Then we take them to the roof again for the sun, and then back to the kitchen again, because the kitchen is filled with amazing aromas every day.
IM: Oh, so amazing! What are your favorite mushrooms? Why do you like them? And how do you prepare them?

NK: I Love...

Black Trumpet Mushrooms
I love to cook it with garlic, onion, and olive oil. I like to dry it, make a purée, or make chips and fry them and turn them into snacks. So, from the beginning, you have that connection with the earth.  

Morel Mushrooms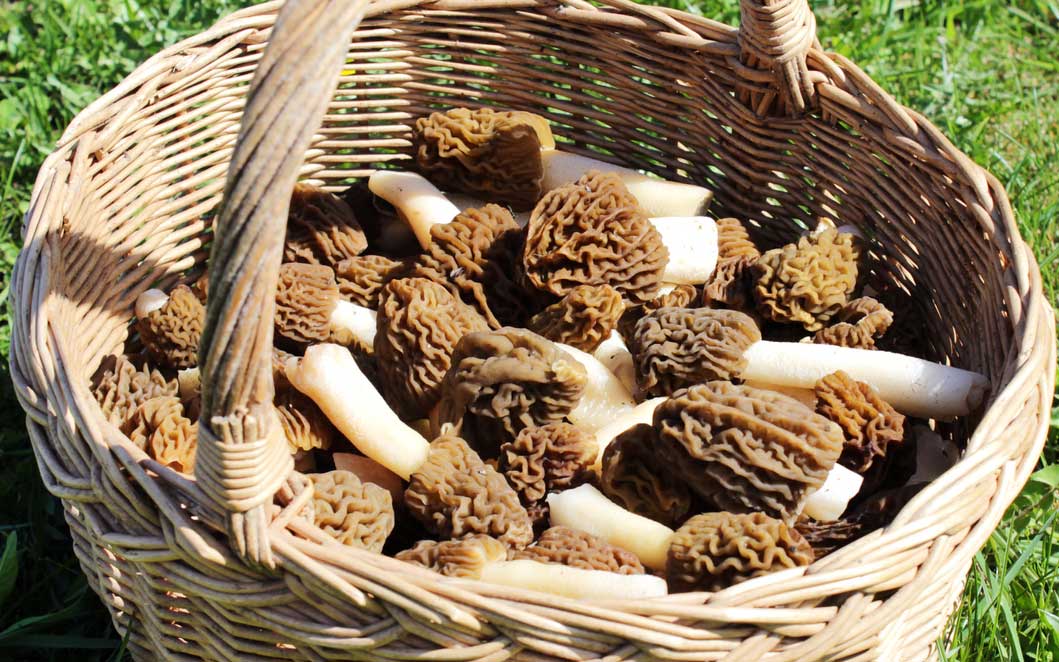 Shaped like a Christmas tree, it gives you a lot of joy when you work it well. Imagine you have to understand this structure that is in front of you. It has had to be born from a spore, it has had to steal liquid from other roots to feed itself… it has had sun, shade, humidity, all those things. For me, that morel stands in the forest like a queen.

Matsutake Mushrooms

You heat it and put a little vinegar with some garlic. It's like eating a mochi or grandma's lemon cake. If you close your eyes, it's a mushroom that melts in your mouth.

IM: How did your story with mushrooms in your cooking begin? 

NK: I was born in San Sebastian, and when I was a little girl, we used to go to the forest with aita (my father). 
On the forest path, we collected chestnuts, wood, and mushrooms every weekend when it was in season, and each one with his basket. 
We learned there, as good immigrants, to sauté mushrooms, add eggs, and make a mushroom scramble. 
We were very poor and had no gas. So we had to bring wood from the forest to have a fire at home. My memory of going for mushrooms is that they were there… and did not belong to anyone.
IM: Getting the products for your restaurant in Morocco is a challenge as you say in your book "Najat". How do the mushrooms arrive at your restaurant?

NK: The mushrooms arrive late at night, when the temperature is low. Here the temperatures are high and can change. Suddenly, there is humidity, it rains, or it's sunny...it is outrageous. 
So, produce moves a lot at night. It arrives in straw baskets by donkey or mule to the restaurant, because that's the transport we have. And also, as I say in the book, everything arrives by donkey. And between the mountain and the restaurant, it can be a two-and-a-half-hour walk.
IM: In your presentation at Madrid Fusion, it caught my attention that you make jam with black trumpet. I had never heard of sweet preparations.

NK: Why can mushrooms only be from the salty world? 
Imagine a good quality mushroom jam with an onion compote and a super-salty brioche, and you crack an egg on top, and you have a vegetarian salami or dried tofu on top. That mushroom has a lot more life in it.
IM: Oh, how delicious... What is Nur's most representative mushroom dish?

NK: The duck with mango and we changed the purees or sauces for burnt Matsutake with black garlic. It's an essential mix with the mushrooms with a fermented beet that has had the sugars removed. 
The beets give that earthy touch to the duck and the mushrooms, the umami, and the texture. No one would say there are ducks in Morocco, but we have some very nice ones. (laughs)
IM: Thank you so much for taking the time to talk with us!

NK: I am happy to talk about the mushrooms of my land that I love so much. 
Notes:
This interview was edited for length and clarity.
Photo courtesy of Najat Kaanache, with thanks.
Her latest book "Najat" (In Spanish) 
Najat with Gordon Ramsey...
Related Topics: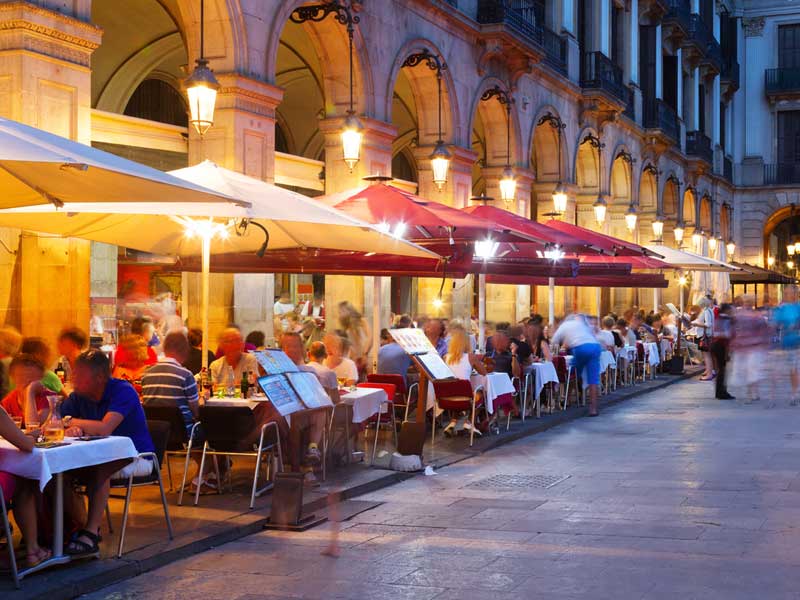 Interviews with international chefs who love to cook with mushrooms.

A series of interviews with chefs from around the world, all of whom love to create amazing dishes with mushrooms. The interviews...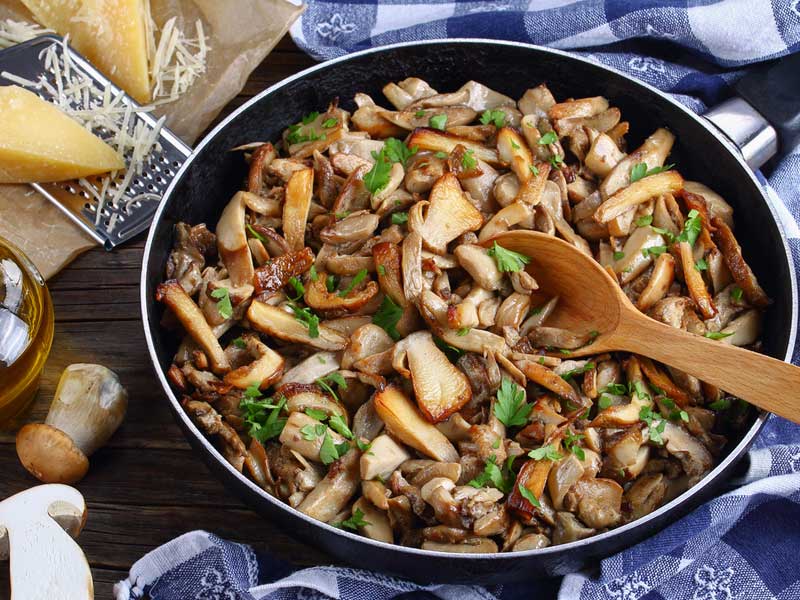 Original mushroom recipes shared by mushroom lovers from around the world

These mushroom recipes include home-cooked favorites, plus exotic dishes from famous chefs who love to cook with mushrooms. The recipes...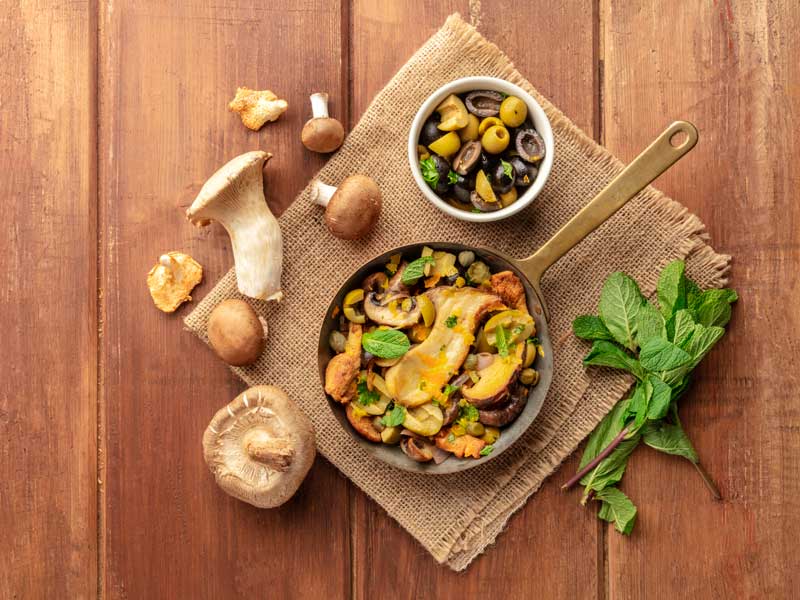 The nutritional value of mushrooms in your diet is greater than you think.
Mushrooms are dense with nutritional value and a variety of textures and flavors… including chicken, lobster and shrimp! Read the full article...

Before you go, please tell us what you want to know more about... 
Create your own user feedback survey