Japanese Style Stuffed Cabbage with dried Shiitake and Wood Ear mushrooms.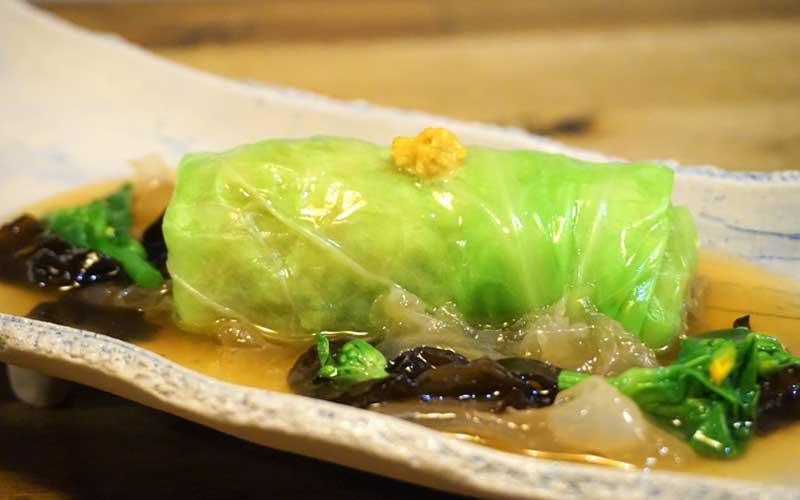 This recipe, shared by Chef Atsushi Takata, consists of cabbage leaves stuffed with pork, Shiitake, Wood Ear, and shrimp, bathed in Shiitake sauce and sprinkled Wood Ear. 
If you are a mushroom lover, you'll really enjoy it and prepare it over and over again. It's delicious!
As you'll see, the recipe calls for dried mushrooms. How come? Wouldn't fresh be better? It turns out dried mushrooms, once rehydrated, have a stronger and richer flavour.
This wonderful dish is usually available only at Uribou, one of the best Japanese restaurants in Barcelona.
Follow this recipes and you can now enjoy it at home!

And don't forget, Shiitake mushrooms are good for your health.
This recipe serves 6 – 12 people.
Japanese Style Stuffed Cabbage Ingredients.


1 whole cabbage  
400g minced pork
12 pieces of dried Shiitake mushroom
A handful of Wood Ear mushrooms 
12 shrimp
1 onion 
1 egg
9 tbsp panko (Japanese breadcrumbs) 
2 tbsp potato starch
2/3 tbsp salt 
Pepper
Preparation

Rehydrate the dried shiitake and dried Wood Ear with water separately. Once softened, squeeze it, set aside Wood Ear and Shiitake water for the sauce. Finely chop the shiitake, Wood Ear, and onion. Cut the shrimp into large pieces. 
Heat the whole cabbage in the microwave for about 7 minutes. Once softened the leaves, peel them off one by one carefully. Boil cabbage leaves for 2-3 minutes until the greens are bright and tender.
Put minced pork in a bowl, add beaten egg, 1 tablespoon of potato starch, 9 tablespoons of Panko, 2/3 teaspoon of salt, and a little pepper. Knead by hand until sticky. Add chopped shiitake, Wood Ear, onion, shrimp, and mix until uniform. Divide into 12 equal parts and put each into a straw shape.
Spread a piece of cabbage leaf and place one filling to the thick end side. Roll it around until the end without any gaps. Stuff the excess leaves tightly into the gaps. Make the rest in the same way.
Arrange the cabbage rolls in the pan without any gaps. Put the soup stock made from the shiitake water and simmer for 30-40 minutes at low heat, covered. Thicken the boiled broth with 1 tablespoon of potato starch and sprinkle Wood Ear into the sauce.
Enjoy with chopsticks!
More mushroom recipes: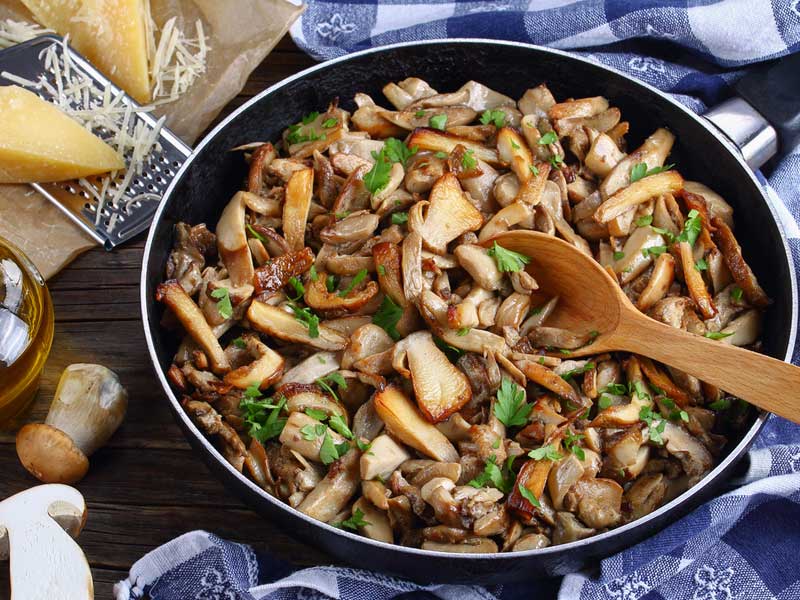 Original mushroom recipes shared by mushroom lovers from around the world

These mushroom recipes include home-cooked favorites, plus exotic dishes from famous chefs who love to cook with mushrooms. The recipes...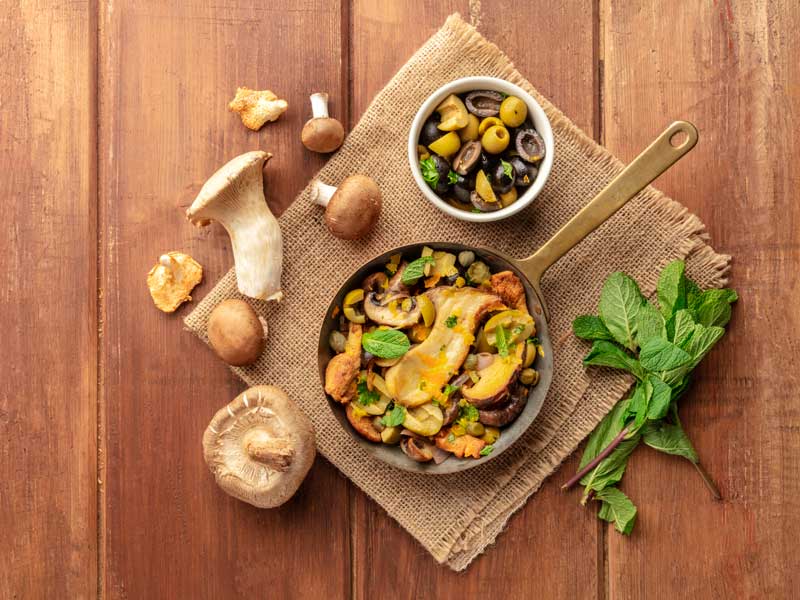 The nutritional value of mushrooms in your diet is greater than you think.
Mushrooms are dense with nutritional value and a variety of textures and flavors… including chicken, lobster and shrimp! Read the full article...

Before you go, please tell us what you want to know more about... 
Create your own user feedback survey