10 Holiday Gifts for The Mushroom Lovers in Your Life.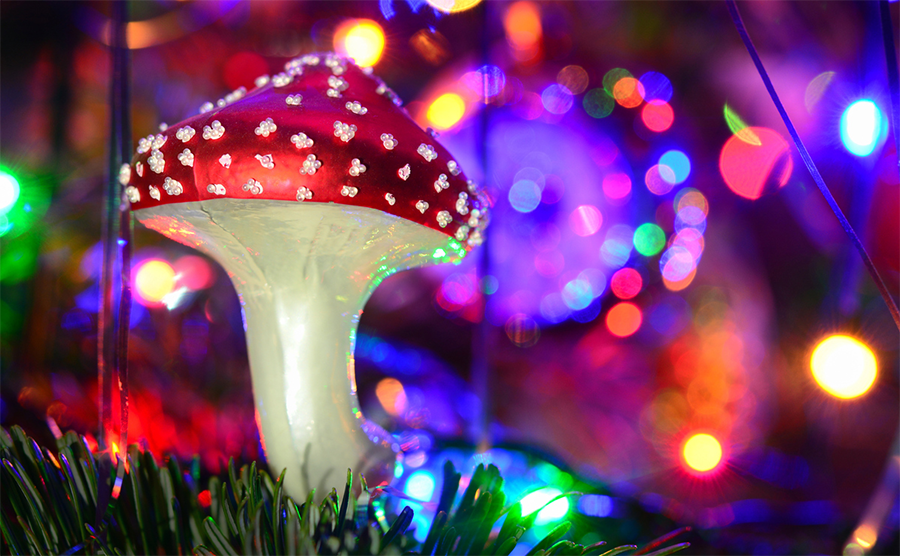 Fall is peak mushroom season – when fungal fruits appear in temperate forests and fields in abundance, thriving in the cool damp conditions that autumn brings. Mushroom lovers delight as fungi take center stage on restaurant menus, at farmer's markets, and our tables.
With the holidays approaching, we are excited to celebrate the bountiful harvest with our curated list of the best mushroom-inspired gifts.
Adventurous gifts for mushroom foraging enthusiasts.
It doesn't matter if you're an expert in the field, or a complete novice to foraging – these outdoorsy gifts will be a hit with all experience levels.
1. Fortem Leather Foraging Bag
This extra-large mushroom foraging bag is durable, attractive, and lightweight – made from canvas and genuine cow leather with a mesh bottom that allows dirt and spores to fall back to the ground. It has a handy loop that attaches to your belt or backpack with metal snaps, for hands-free harvesting. A drawstring closure and compact collapsible design make this bag easy to transport, whether full or empty.
Bonus: Fill this foraging bag with plant-based mushroom jerky for an extra thoughtful gift that's sure to delight hungry mushroom hunters. Vegan, non-GMO, Soy and Gluten Free, and made in the USA for a low carbon footprint.
2. National Audubon Society Field Guide to North American Mushrooms.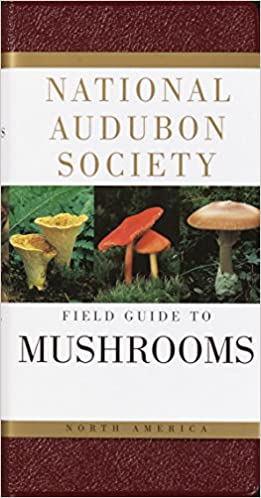 The best-selling first edition of the classic field guide is a must-have for anyone who wants to forage in the wild. Or simply identify the mushrooms they find in nature. Considered the most comprehensive field guide available on North American mushrooms, with 762 full-color photographs that are organized visually by color and shape – so helpful!
The durable vinyl binding stands up to conditions in the field and each species is described in scientific detail – plus notes on edibility, habitat, season, range, look-alikes, alternative names, poisonous species, and fungi folklore. Gourmands will appreciate the section on cooking and eating wild mushrooms. Reading age is 12-17 years.

3. Mushroom Enamel Camp Mug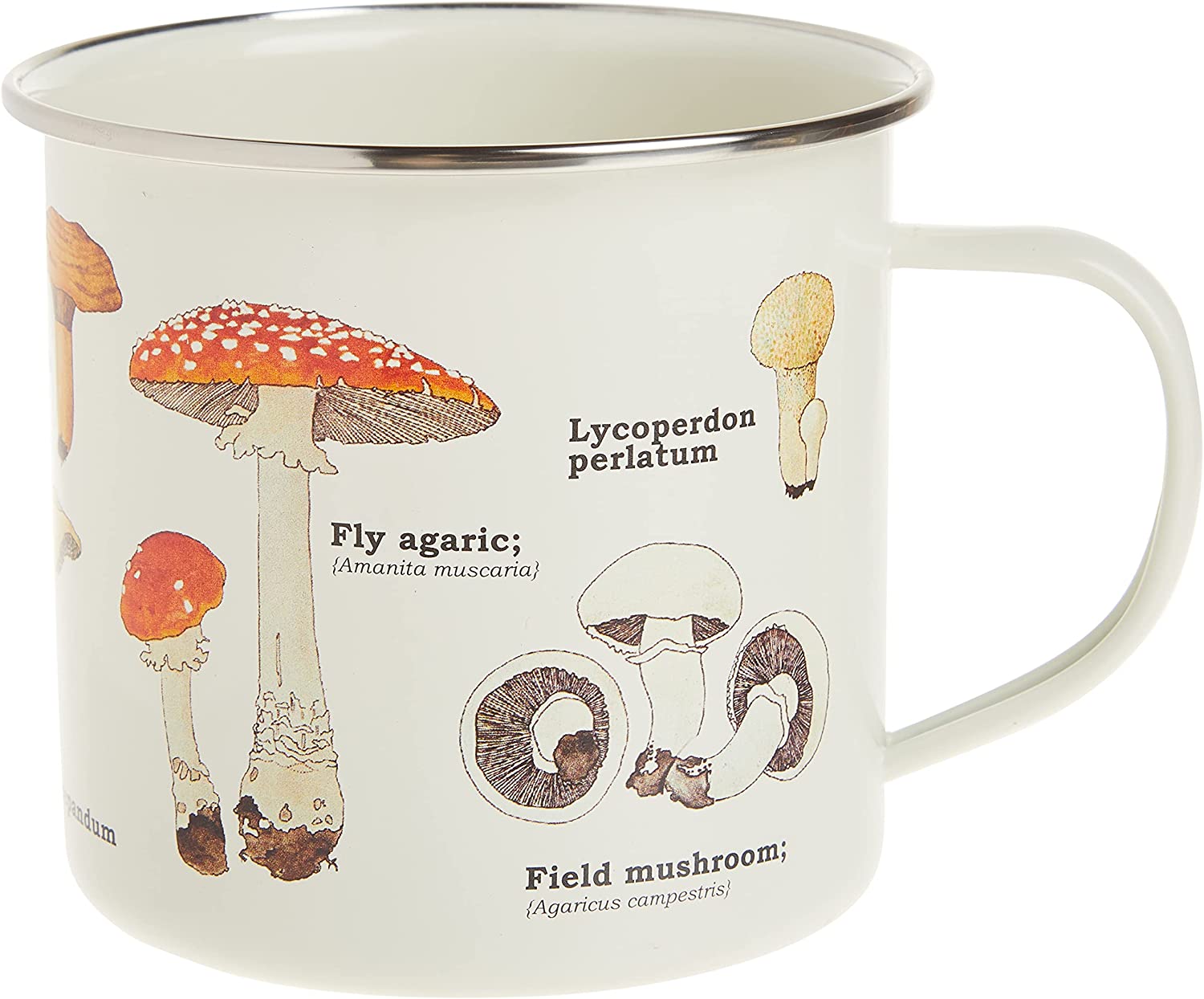 This cheerful camping mug showcases vintage color illustrations of fungi species and their scientific names. Made of durable enameled tin, it is lightweight, leak proof, and won't break if it takes a tumble. Not suitable for the dishwasher or microwave, because hey – it's made for roughing it in the back country.
Bonus: Lavish your loved one by pairing this mug with gourmet mushroom coffee from Seattle's newest shroom café, Wunderground – serving medicinal java and teas directly sourced from smallholder farms. Founder & entrepreneur, Jody Hall (of Starbucks marketing pedigree), is an advocate of the many health benefits of mushroom brews. And orders over $50 include free shipping.

Mushroom gifts for the hearth & home.
Here are four wonderful ways to bring the wholesome goodness of fungi indoors during the cold dark winter months.
4. Shroom: Mind-bendingly Good Recipes for Cultivated and Wild Mushrooms.
This down-to-earth cookbook by chef and cooking instructor, Becky Selengut, is a must-have for folks who love to eat shrooms. Selengut established her culinary prowess with her award-winning debut cookbook on sustainable seafood, called Good Fish, in 2011.
Shroom is her latest tribute to sustainable cookery – with tantalizing recipes like Portobello Shakshuka and Smoky Squash Soup and black trumpets. It features 15 species-specific chapters to make your mouth water with delicious ways to incorporate fungi in your diet. Selengut's wife and sommelier, April Pogue, also contributes wine pairings for all 75 recipes.
The perfect guide on how to source, prepare, and enjoy every edible mushroom under the sun – morels, maitake, oyster, chantarelles, and beech mushrooms, among others – with dishes inspired by the international flavors of Indian, Thai, Vietnamese, and Japanese cuisines.
Bonus: Pair with a bottle of wine from Pogue's suggestions – or assemble a gourmet gift basket stocked with savory white truffle oil, porcini salt, and mushroom risotto – to send your gourmand over the moon with gratitude.

5. North Spore Golden Oyster Mushroom Grow Kit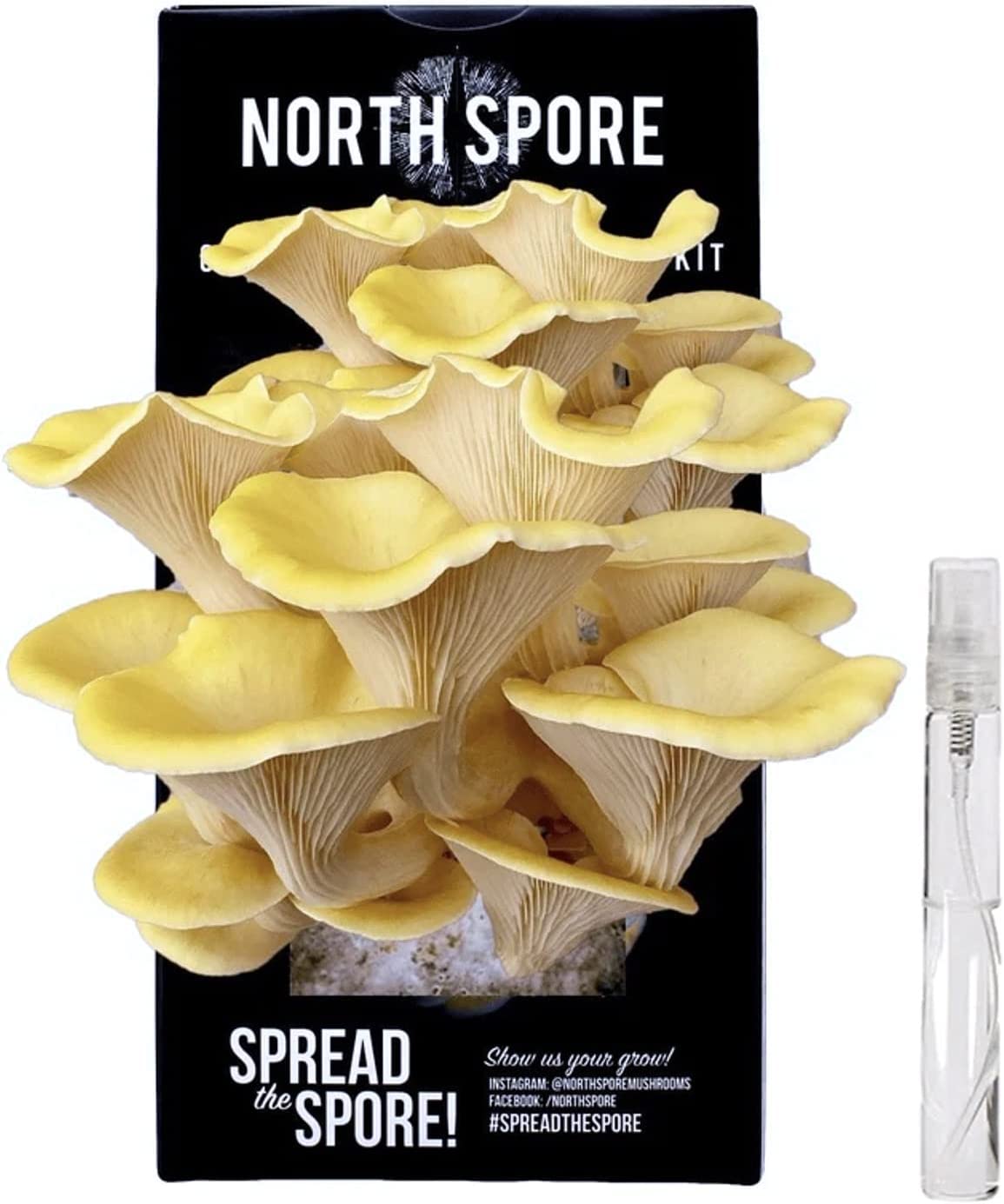 No mushroom-loving gift list is complete without a grow-at-home mushroom kit. This year, we are happy recommend a new line of organic DIY mushroom blocks from the North Spore Store in Maine. Easy, delicious, and affordable – North Spore is a sustainable small business specializing in handmade gourmet mushroom kits that are locally-sourced, non-GMO, all natural, and certified organic. They are also pet friendly.
Each 4-lb grow kit is 100% guaranteed to produce yields up to 1.5 lbs within 10-14 days – all you have to do is provide daylight and daily misting.
Golden Oysters are aromatic, delicate, and delicious for cooking, with a soft nutty flavor similar to cashews. This makes them a favorite of chefs for both flavor and texture.
Bonus: North Spore also offers kits for blue oysters (mild and velvety), pink oysters (succulent and savory), and Lion's Mane mushrooms (sweet, tender, and meaty). Take your pick!

6. Stainless Steel Truffle Slicer
The best gifts sometimes come in small packages. This stainless-steel truffle slicer certainly fits the bill – perfect for stocking stuffers, Hannukah, birthdays, or thoughtful hostess gifts.
With a durable rosewood handle and adjustable blades, you can adjust the shaving thickness for truffles – as well as vegetables, chocolate, cheese, and garlic.
Bonus: Pair this hard-working kitchen tool with a decadent treat that will warm the heart – with a jar of organic preserved black truffles from Umbria, Italy. Did someone say yum?

7.  Bamboo Mushroom Lamp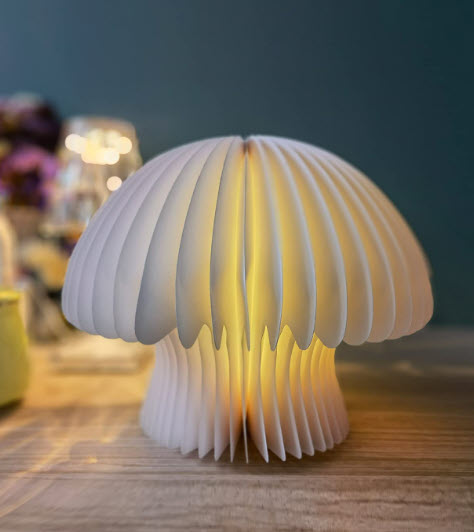 Fungi aren't just for the kitchen... This cheery mushroom lamp adds a sculptural element to every room in the house. Made from sustainable bamboo fibers, it will brighten up dark corners all year long with a smart cordless design.
The whimsical origami design is both ingenious and practical – featuring a foldable accordion shape that collapses into a book for flat storage. And opens to 90-, 180-, or 360-degrees, for versatile display. Made from eco-friendly materials that are tear-resistant and waterproof, with LED lights, 16 dimmable color selections, 5 light settings, a timer, and remote control.

Fungi-inspired fashion for every season.
Here are three fun ways to sport the mushroom motif from head to toe – with fitting gifts for teens and adults alike.
8. Corduroy Mushroom Bucket Hat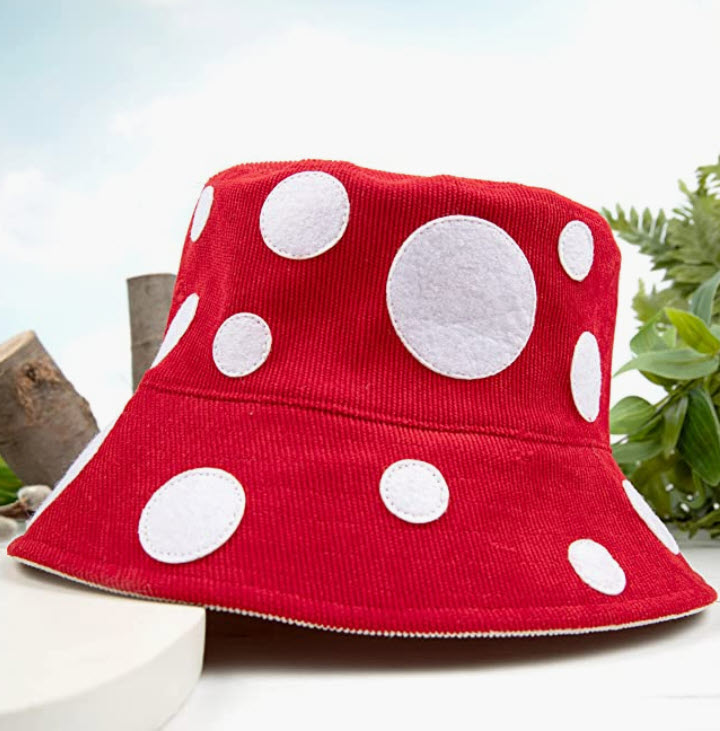 Bucket hats are on trend and in fashion for all ages and every gender. What better way to keep your ears warm than with a stylish mushroom hat? Made of all-natural cotton, this corduroy bucket hat is crafted with love, reversible, and one size fits all (so there's no need to guess).
9. Chiffon Mushroom Scarf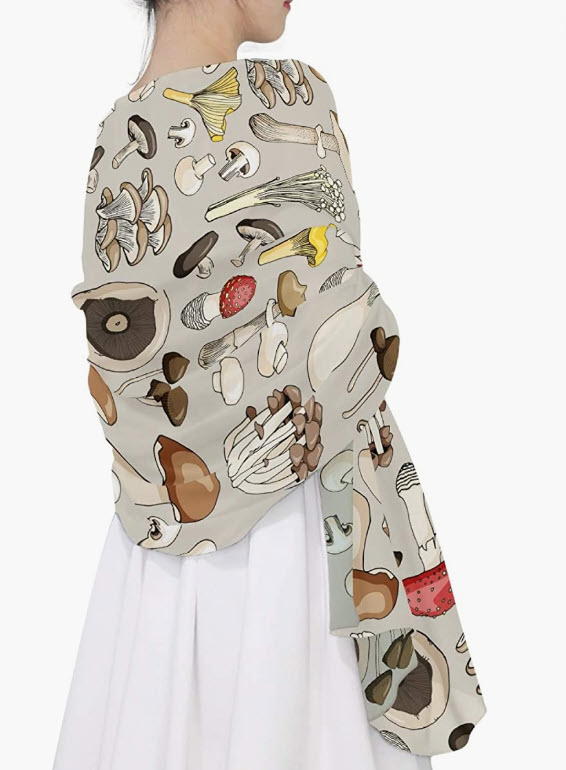 This pretty chiffon scarf with vintage mushroom print makes an elegant accessory for festive social occasions, or everyday attire. With extra long dimensions, it can be worn around the neck, as a shawl, head scarf, or even a belt. Thermal transfer printing technology ensures its vibrant colors won't fade – a fashionable gift for fungi lovers that will be treasured for years.
10. Mushroom Crew Socks
Who says footwear has to be boring? These super soft socks made from bamboo-rayon blend will keep your feet dry and toasty, while effortlessly chic. They come in brown or black and feature a dainty red Amanita mushroom motif. Fits women's sizes 9-11, and machine washable. Smiles are guaranteed.
Bonus: If you're looking for warm thermal socks for damp forest hikes or après ski on the mountain, these wool mushroom socks from Janmercy are sure to please. For men who love mushrooms, Modsocks offers cotton-blend socks with a multi-color mushroom print and reinforced toes and heels. They come in brown or green and are machine washable. Fits men's sizes 8-13.

Related Topics: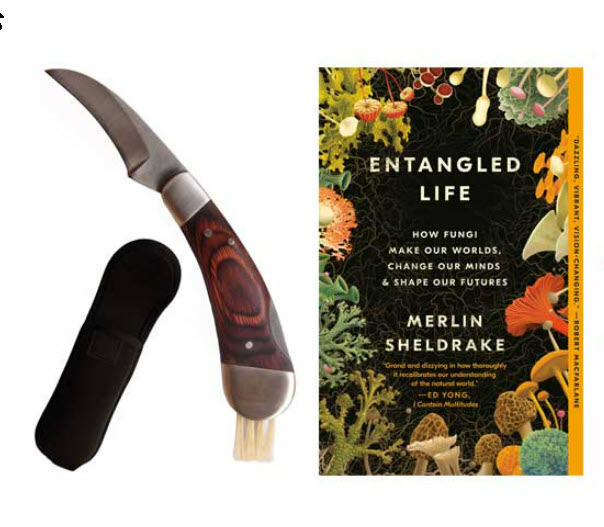 A curated guide to the best gifts for the mushroom lovers in your life.
If you have a mushroom lover in your life, your gifting struggles are over. Here are 15 gifts to choose from. Read the full list...
Before you go, please tell us what you want to know more about... 
Create your own user feedback survey