Cream of Mushroom Soup, made from scratch.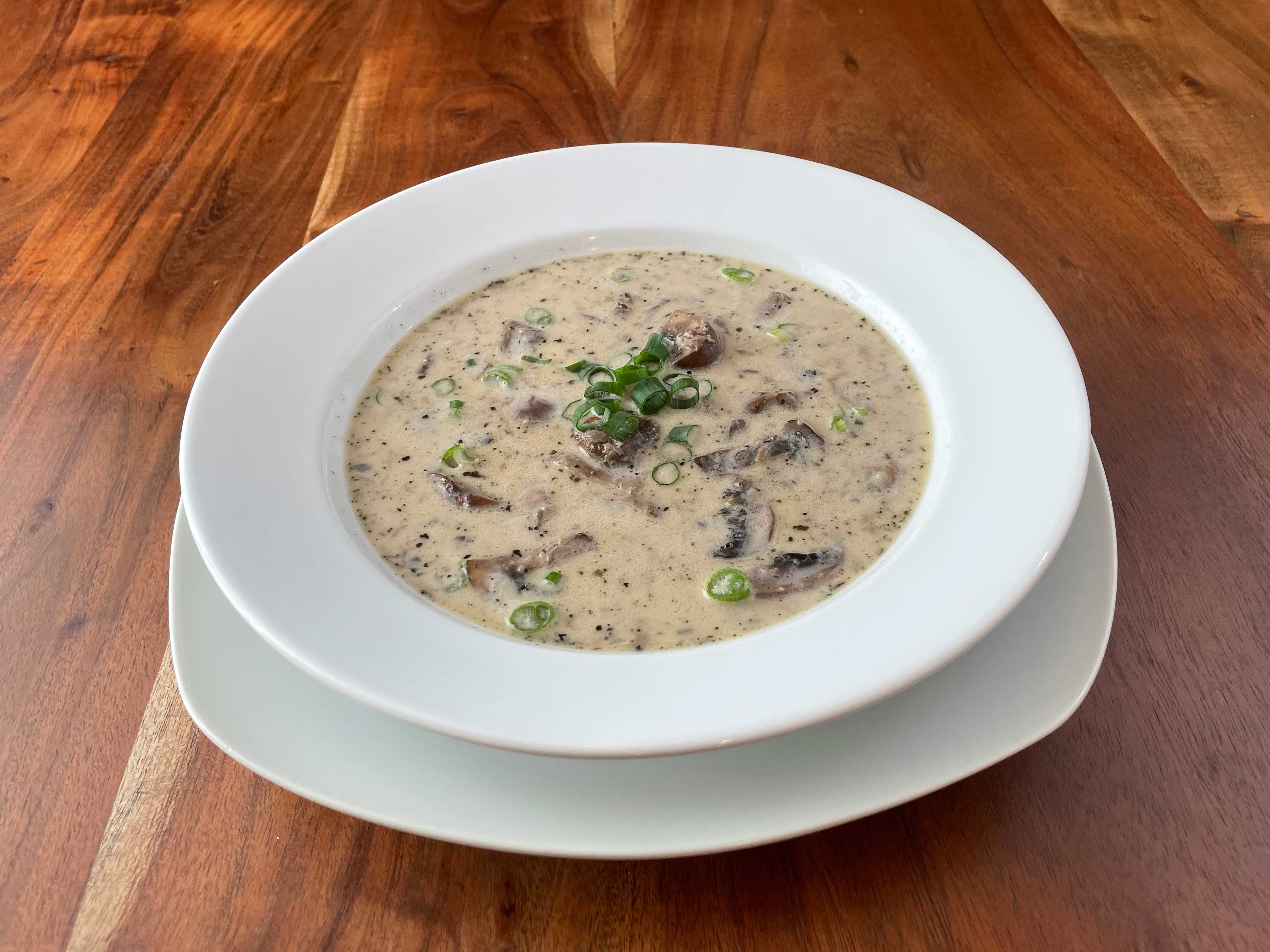 Cream of mushroom soup is wonderfully versatile as an ingredient in casseroles, sauces, and other soups. But too often it gets overlooked as a meal in its own right. 
A made-from-scratch cream of mushroom soup can be a hearty, delicious meal… the very best kind of comfort food. 
And way better than anything you might buy in a can or a packet.
To add creaminess and depth, instead of using plain cream, we're using an easy-to-prepare alfredo sauce. 
For this recipe, button mushrooms, Shiitakes, or creminis will work best… although there's nothing wrong with experimenting with other mushroom options. The photos here feature creminis.
The ingredients you'll need for this recipe.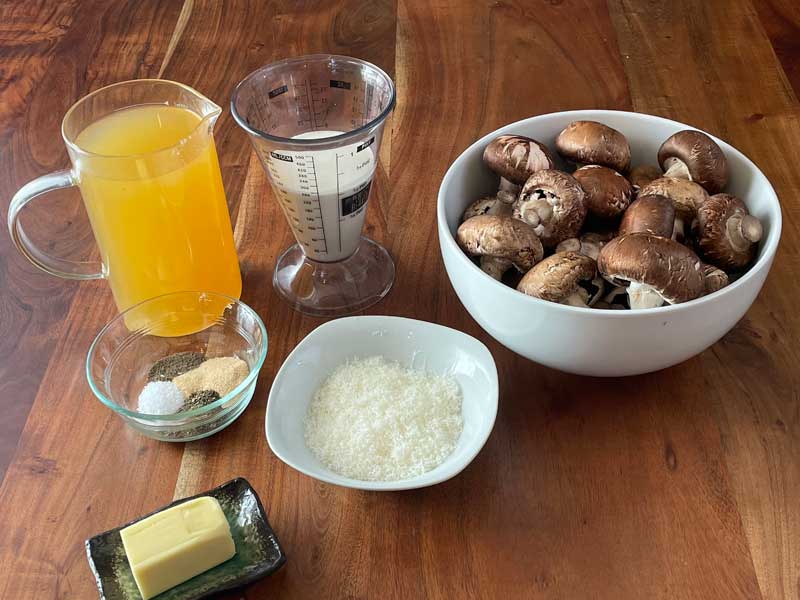 1 cup heavy cream
2 cups finely shredded parmesan
¼ cup butter
Pinch of nutmeg
2 pounds of your favorite mushrooms
4 cups chicken broth
1 teaspoon salt
½ teaspoon pepper
2 teaspoons garlic powder
2 teaspoons dried basil
Cooking oil
Instructions on how to make Cream of Mushroom Soup.

Step 1: Make the alfredo

Begin by melting the butter over medium low heat
Add the heavy cream and bring the cream and butter to a simmer. Add the pinch of nutmeg. Don't let it boil. Stir and simmer about two or three minutes. 
Remove the mixture from the heat. Slowly add the parmesan, stirring constantly, until the sauce is creamy.
Set aside.
Step 2: Prepare Your Mushroom Base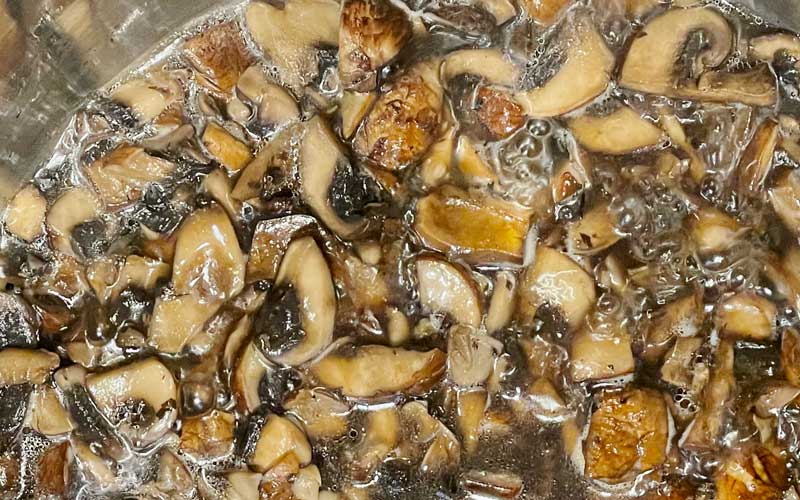 Clean the mushrooms using a moist towel. Don't wash them under water if you can help it. 
Finely chop 12 ounces of the mushrooms. Aim for pieces that are roughly 1/8 to 1/4 inch cubed.
Add 1 tablespoon of cooking oil to your soup pot. Allow it to heat over medium heat for two minutes or just until the oil smokes. 
Add the chopped mushrooms and sauté them until they are well cooked. 
Add just cover enough chicken broth to the pot to cover the mushrooms and simmer the mixture for five minutes. 
Remove the mushrooms and broth to a bowl and allow to cool.
Step 3: Making the Soup

Cut the remaining mushrooms into eighths—big chunks.
Add 2 tablespoons of oil to your soup pot and allow it to heat for a minute or two.
Add the mushrooms.
Cook and stir the mushrooms until they have softened. 
Add the remaining chicken broth to the pot. Bring to a boil, and then turn down to the heat to simmer. 
In a small bowl, mix the garlic, salt, pepper, and basil together. Add half the spice mixture to the pot. 
Simmer the mushrooms in the chicken broth for ten minutes. 
Step 4: Add the Base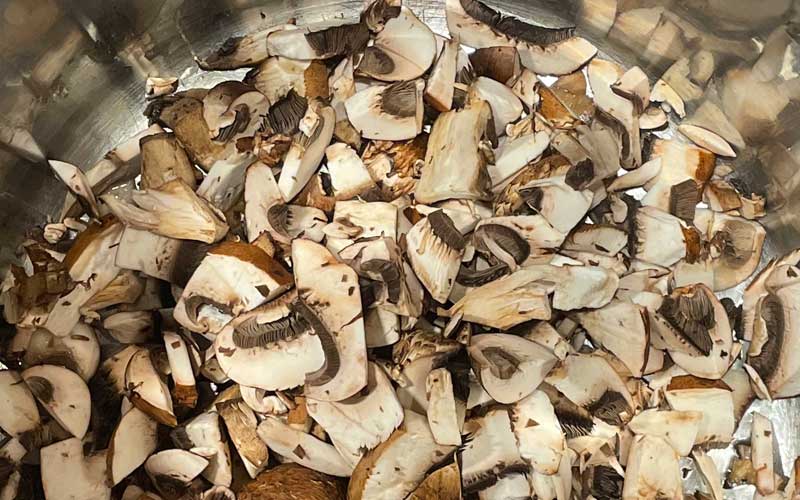 With the thinly sliced mushrooms, you have two options. 
You can puree them with their broth before adding them back to the soup. This will result in a thicker broth, but not everyone loves the texture of pureed mushrooms. 
You can also add them back to the soup without pureeing them. This will give your soup a mix of small bits of mushrooms and big chunks of mushrooms. 
Either way, it's time to add those mushrooms back to the soup. 
Once you do, simmer the soup for five more minutes. 
Step 5: Add the Alfredo

Next, stir the alfredo sauce into the soup. This will give the soup its rich, creamy taste and texture. 
Taste the soup. Bit by bit add more of your spice mixture until you reach the flavor you want. 
Top with chopped scallions, cooked bacon crumbles, or caramelized onions (or all three!)
Serve with warm rolls or garlic bread and a green salad. 
Makes four to six servings.
Enjoy!
Nutrition per 1.5 cup serving

Calories: 385
Fat: 32 grams
Sodium: 1297mg (Use low-sodium chick broth to reduce this)
Cholesterol: 97mg
Carbs: 12.5 grams
Fiber: 1 gram
Sugar: 4 grams
Protein: 15 grams
Related Topics: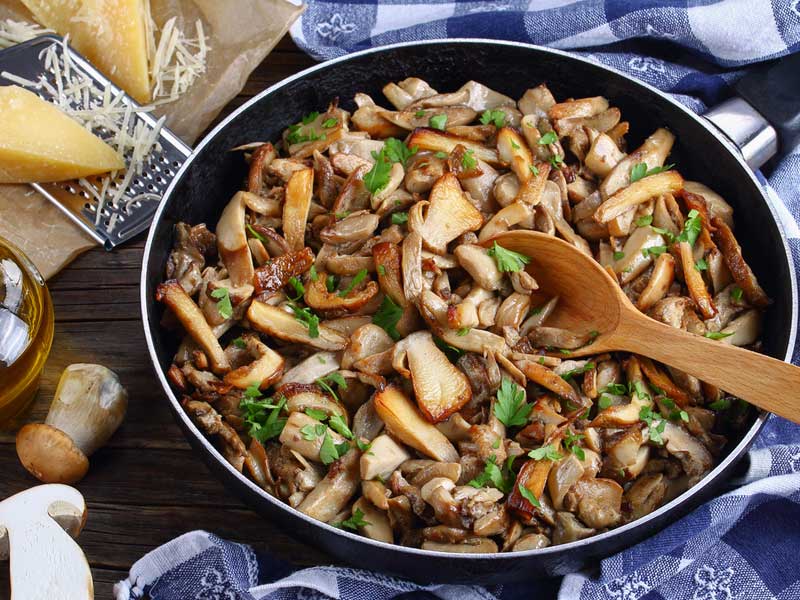 Original mushroom recipes shared by mushroom lovers from around the world

These mushroom recipes include home-cooked favorites, plus exotic dishes from famous chefs who love to cook with mushrooms. The recipes...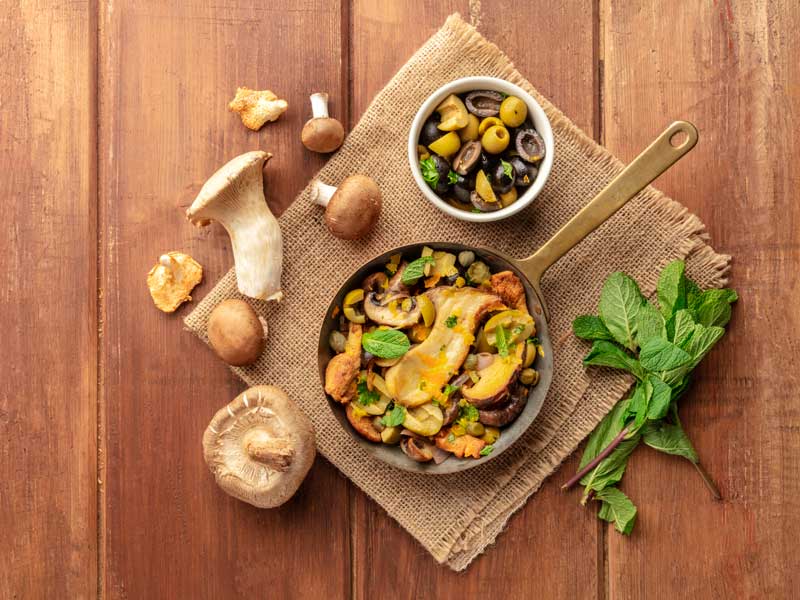 The nutritional value of mushrooms in your diet is greater than you think.
Mushrooms are dense with nutritional value and a variety of textures and flavors… including chicken, lobster and shrimp! Read the full article...

Before you go, please tell us what you want to know more about... 
Create your own user feedback survey