Chaga mushrooms: A strange fungus with lots of potential.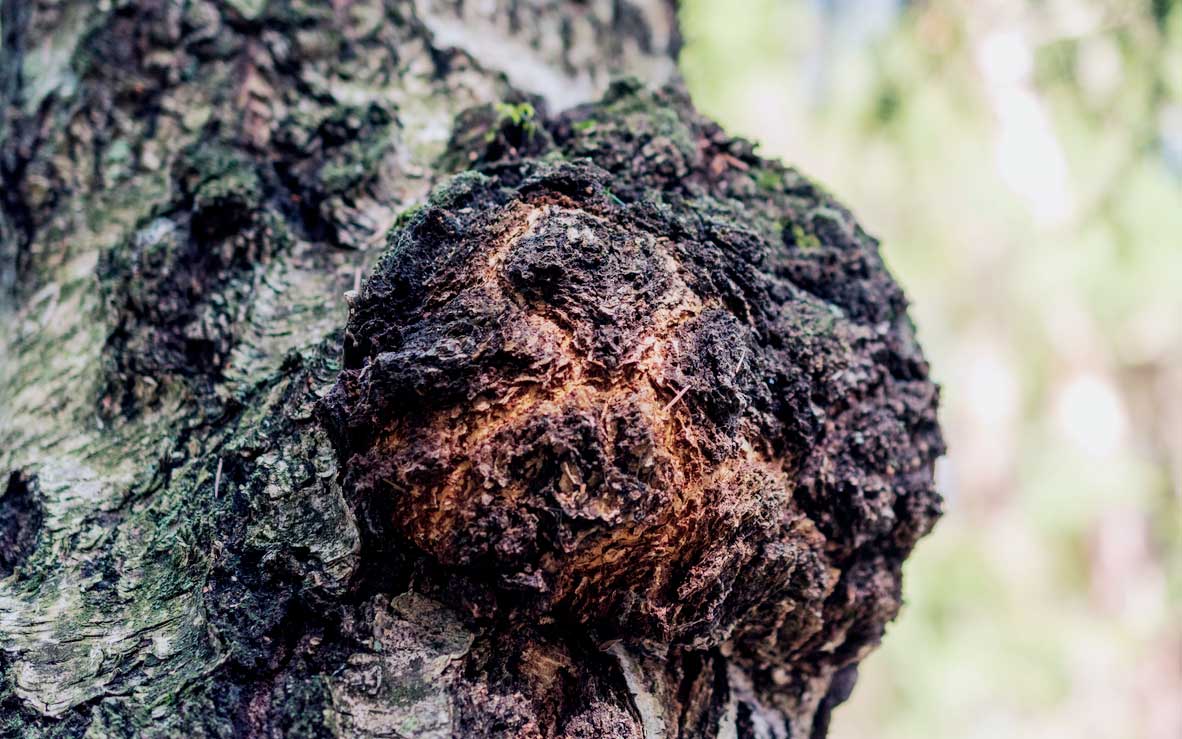 The Chaga mushroom doesn't look much like a mushroom at all. 
Instead of the iconic "stem and cap" structure you automatically think of when you hear the word mushroom, a Chaga looks more like a bumpy piece of charcoal. 
It doesn't grow on the ground either. You won't find any Chaga "rings" in your grass in the morning. Instead, you'll have to look for these mushrooms growing on hardwood trees, usually birch. 
When a birch tree loses a branch during a storm or suffers other damage that leaves an open wound in its bark, Chaga will grow over the wound, essentially providing a natural sort of bandage. At the same time the chaga acts as a parasite, feeding off the tree. 
Chaga mushrooms prefer colder climates. They grow in places like Siberia, Scandinavia, Canada, and the Northern U.S. 
Cultures in Siberia have been enjoying the health benefits of Chaga mushrooms for just shy of a thousand years… that we know of. 
In the 17 and 1800s, healers and doctors in Russia and other areas of Northern Europe turned to Chaga for help healing cancer, ulcers, and tuberculosis. 
In Norway, this mushroom has earned the name kreftkjuke or "cancer mushroom."
If you can't access then in the wild, Chaga supplements are available through companies like Real Mushrooms.
A deeper look into Chaga mushrooms.

When the scientific community become interested in the potential health benefits of an organism, they often begin by seeing what types of compounds are present in its make up. 
When they delved into the Chaga mushroom, researchers found it contained high amounts of oxalic acid along with gallic, protocatechuic and p-hydroxybenzoic acids. 
The big, hard-to-pronounce names don't matter as much as what researchers have learned about the behavior of these compounds. Extracts taken from Chaga mushroom have antioxidant and antimicrobial properties. They also have anti-quorum sensing activity, which means Chaga could help your body fend off infections by interfering with the normal replication of bacteria.  
Chaga mushrooms also contain high amounts of melanin. You probably know that the amount of melanin in your skin determines your skin color and that it's what gives fair-skinned folks a tanned appearance after being out in the sun. But melanin does other things, too. According to a scientific report appearing in Nature, it has antimicrobial and antitumor properties as well as liver-protecting properties. 
So, what does the research say?

Based on the compounds they contain, it looks like Chaga mushrooms have the potential to play an active role in supporting your health in a number of ways. 
A few specific studies emphasize how we might use Chaga mushrooms to fight disease. 
Early test tube studies suggest that Chaga mushrooms may combat liver disease. Researchers treated liver tissue from rats with a water-based Chaga extract. Then they exposed the tissue to a chemical known to cause liver damage in a similar way to drugs and alcohol. The Chaga extract protected the liver tissue from the damaging effects of the chemical. 
One of the compounds in Chaga mushrooms (and all mushrooms, really) that most piques the interest of medical researchers is polysaccharides. Now, there are a ton of different polysaccharides found in nature, but the polysaccharides found in mushrooms tend to be unique. They also tend to have a lot of promise when it comes to fighting different diseases. The polysaccharides in Chaga mushrooms, called PIO for short, have shown potential to help control blood sugar. 
In a study done on rats, scientists first induced diabetes in their subjects, and then treated the rats with PIO over the course of six weeks. After six weeks of treatment, the rats' blood sugar had returned to near-normal levels, and their damaged pancreatic cells had begun to heal. 
Like the study on liver tissues, the real proof will come from studies on humans. But the possibility of naturally controlling blood sugar and healing damaged pancreas cells is no small thing. 
Not surprisingly, since Chaga is known as the "cancer mushroom" in some parts of the world, it also shows potential to slow tumor growth and help fight against certain kinds of cancers. 
In one study on lung cancer cell cultures, researchers found Chaga mushrooms contain compounds called triterpenoids that induced cell death in the cancers. (Lung cancer is the leading cause of cancer death in the world, so doctors are always looking for new, effective treatments.) 
Researchers are also exploring the infection-fighting properties of Chaga and other mushrooms. In a study done on mice, scientists exposed two batches of mice to a strain of the flu. After exposure, they gave one group beta-glucans derived from Chaga and other mushrooms. The mice in the control group all died within 12 days, but 60% of the treated group survived.
Unfortunately, clinical research done on actual humans is slim to none when it comes to Chaga mushrooms, so we'll have to wait to see exactly what these strange little mushrooms can do when it comes to benefiting people…
In the meantime…

Just because the research is still thin, doesn't mean you can't try Chaga mushrooms to see how well they support your health. 
Because of their hard texture, Chaga mushrooms don't offer much of a culinary experience. Instead, they're ground into a powder that is used for making teas and tinctures. You can also find chaga powder supplements. 
While Chaga mushrooms have a number of beneficial compounds, they also contain high levels of oxalate, which can contribute to kidney stones. And because it may lower your blood sugar levels, you don't want to use chaga if you're on any medications that already do that.
This means, you should talk with your doctor about potential risks before using Chaga to support any specific health condition.
Chaga supplements are available through companies like Real Mushrooms.
Related topics: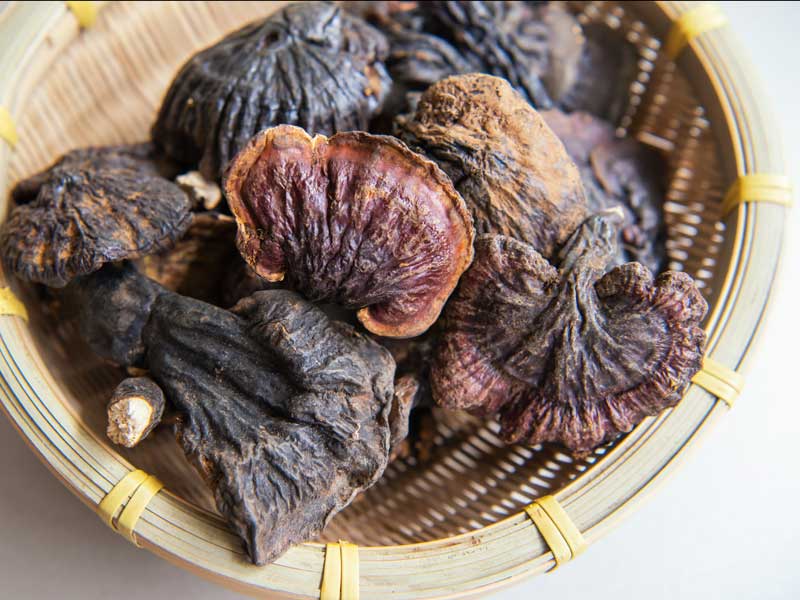 Medicinal mushrooms have been used by healers for thousands of years.
Medicinal mushrooms and fungi offer a variety of health benefits, many of them tied to supporting your natural immune system. Read the full article...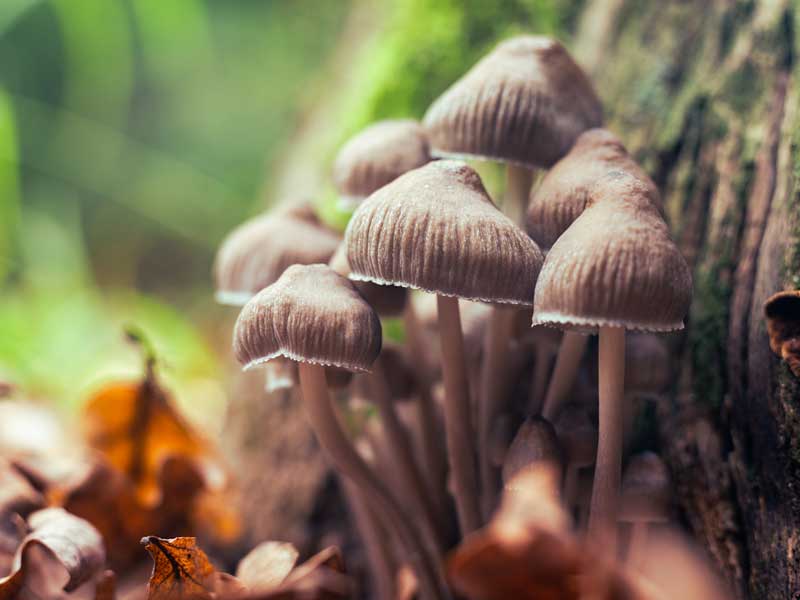 A brief history of magic mushrooms, and how they can improve our lives.

Magic mushrooms have played a role in the spiritual, psychological and mental health of people for millennia. Read the full article...

Before you go, please tell us what you want to know more about... 
Create your own user feedback survey